vSpace Server
100 Desktops, 1 OS, Lowest Cost
Change Your Computing Economics
NComputing's patented and award winning vSpace Server changes the economics of desktop virtualization. vSpace Server supports up to 100 user sessions per instance, offering the most affordable desktop virtualization solution in the market. Combine the power of multiple vSpace Servers and scale vSpace virtualization platform deployments to thousands of connections.
vSpace Server software divides a computer's resources into independent virtual workspaces that give each user their own rich PC experience. Space Server interacts with the NComputing UXP (User eXtension Protocol) and the NComputing thin clients and software access clients to deliver a highly optimized end-to-end desktop virtualization solution.
For remote management of NComputing thin clients, vSpace Management Center provides a flexible, web-based management tool for all network-connected thin client devices connected to vSpace Server 7.0 and up.
The Cost and Complexity of Scaling Deployments for 100 Users:
Simplifies the effort required to provide each user with a personalized, centrally- managed and secure desktop computing environment
Reduces deployment time with the ability to configure and deploy thousands of virtual desktops in days rather than weeks
Provides a full, rich, multimedia desktop experience for popular desktop environments, including Windows Multipoint Server 2012, Windows Server 2012 and Windows 8
Broad Compatibility with industry leading applications and server virtualization solutions to protect investment in IT infrastructure
Delivers the most user density per dollar with up to 100 user sessions per vSpace Server instance
Reduces the number of hardware hosts, operating systems, and VMs needed in your environment
"Nothing works as fast as NComputing's thin client system and nothing even comes close to how easy the system is to support and maintain. We haven't had to do any work on a student device the entire year, which is pretty incredible. That's freed up our time to work on other things and has generated huge savings in terms of support time. It's like nothing I've ever supported before. I'm completely sold on this thin client."

"Centralised control for supporting and maintaining the 70 computer labs over multiple locations was the main driver for this project."

"After deploying the solution, we can see that NComputing would be a good choice when we need to add computer access for new users. We can even deploy this in our retail showrooms."

Ms. Praphavan Puttummavong

Network & Computer Specialist

"NComputing devices and software deployed at ESIC hospitals ensure effective and optimum utilization of resources at minimum cost to ESIC beneficiaries"

"Our challenge was to expand computing access in a highly economical and eco-friendly way and the NComputing solution was a perfect fit."

"When we were evaluating various it solutions to expand our infrastructure, people discouraged us from going ahead with a virtual desktop infrastructure (VDI) solution. But our experience has been extremely positive. We are running many business applications, such as SAP, Tally and Outlook, which are working wonderfully well on NComputing's vSpace desktop virtualisation platform for L-series."

"We are thankful to NComputing for their excellent solution that gave us the early mover advantage. The fast deployment-followed by cost benefit, zero downtime, the openness of use with any operating system, and optimum space utilisation-made this one of the best services we have received to date."

CEO, Centre of Excellence & Director

"Working with NComputing has helped us solve the challenges associated with enabling affordable computing access to students in the government schools of Bihar, especially in schools located in the rural and remote areas of the state. This project would fulfill our chief minister's dream of providing high quality education, and the much-needed computing skills to millions of children across the state."

Managing Director-BSEIDC, and Special Secretary, Department of Education

"NComputing shared desktop computing technology delivers significant cost savings, which we can re-invest in software and services to ensure our students benefit from the most advanced and high standard of curriculum possible."

"The school director was impressed and surprised at the comparatively low cost for the thin client infrastructure. The cost per unit amounted to approximately 40% of the previous technology program."

"The combination of simple implementation, low management overhead, and low costs is coupled with a high-quality PC experience."

NComputing Vendor Profile, 2012
ADD MOBILITY, BYOD & REMOTE ACCESS
Allow your users to access their work using any Windows device via LAN or WiFi - from their homes or remote locations too
MEET BUDGET CONSTRAINTS BY MIXING & MATCHING CLIENTS
Mix and match NComputing thin clients and soft clients to dramatically lower total costs
MAKE OLDER PC'S USEFUL AGAIN
Repurpose existing and legacy PCs as centrally-managed virtual desktop devices
MAKE WINDOWS UPGRADES EASIER & MORE AFFORDABLE
Limit the costs and effort of upgrading to Windows 7 or 8 to your central server and provide a modern, rich experience with PC's you already have
IDC MarketScape Excerpt: Worldwide Client Virtualization Software 2013 Vendor Assessment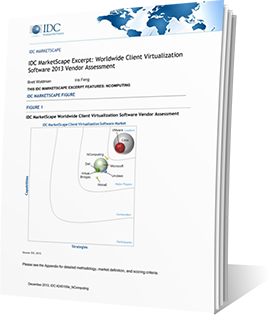 Over the past few years, NComputing has successfully evolved from a device-centric company whose virtualization software platform only supported its hardware end points to a software company with a client virtualization platform purpose built for simplicity, low cost, and minimal IT resource requirements.
Enabling Big Dreams on Small Budgets
Use our Acquisition and Energy Cost Calculator to see how much you can be saving.